From a YMI Youth Minister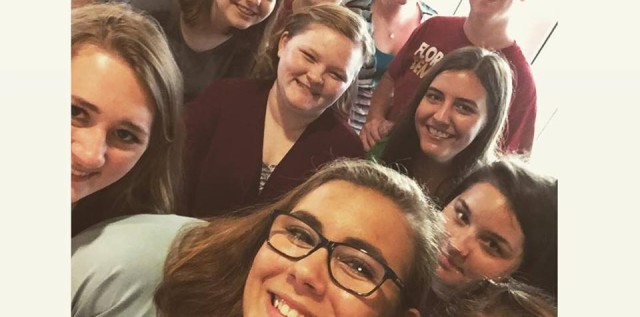 There isn't a better "inside look" than hearing from a student involved in the Youth Ministry Institute. Laura Gehman is in her second year of the Youth Ministry Institute. Read, in her words, how YMI has impacted her life.
"My first encounter with Youth Ministry Institute was at the Rooted event for Florida United Methodist youth workers. I was new to youth ministry, new to Sarasota, and only in youth ministry part time. I thought maybe God had called me to work in youth ministry, but I was not confident in my role.  During the retreat, a YMI student approached me and shared about the program with a contagious excitement. I left Rooted with a deep desire to be part of it. I knew I needed something to empower me to become an effective leader.
During the next few months I talked with my pastor, YMI alumni, Steve Schneeberger and current students about the program. I was encouraged and prayed that God would open the doors to YMI. Because I worked full time as a case manger for homeless families and part time in youth ministry, my first year of YMI was filled with many highs and lows. I left each retreat and conference equipped with tools and resources, and I now had a community of support that truly cared about me as an individual, my students, and my church as a whole. Church members and my students began to see my confidence rising. They saw that I had new ideas and energy to help students and their families, and that I was no longer alone. My passion grew, but so did my sadness that my time was so divided.
One of the most deeply impactful things about YMI has been my relationship with my coach. Krista has been a youth pastor in Sarasota for over ten years and her passion for Christ, students, the church, and others is so evident in the way she lives her life. Our monthly meetings have been keys in helping me take practical steps to apply the material I was learning. On one particular morning she baked muffins, and together in her living room we planned out my small group lessons for the next 3 months. She invited my youth group to join hers for their summer mission trip to Baton Rouge, Louisiana. Krista mentored me in the whole process of planning a mission trip, included me in her parents meeting, let me co-lead the trip, and was very intentional in talking me through scenarios as they came up during the trip. She has loved and encouraged me every step of the way, and has helped me to trust God, my call to youth ministry, and the gifts He has equipped me with.
This fall, I decided to take a step of faith and leave my full-time job as a case manager. Although I've had moments of fear and doubt, because of YMI I'm not alone. I have a new freedom to spend time using the tools I have learned to improve as a youth pastor. God has spoken to me personally though many of the teachers and seminars in YMI. My love for the Lord, and the passion He has given me to see students become fully devoted followers of Christ, is the fuel that keeps me going. Because of YMI I no longer live in fear of my call, I no longer feel alone, and I'm able to more effectively minister to students and families. I can't wait to see how He continues to use what I have learned for years to come."
Well said, Laura. We are thankful for the many who give to YMI so youth ministries, like hers, can experience the transformation God offers through the leadership of YMI trained youth ministers. If you haven't given this year, we encourage you to support Laura and her colleagues as they make a difference with youth in their local churches. Click here to donate.